Would you like to leave a comment?
Tell us your experiences
Please fill out the form below to leave your comments
Please feel free to email Gary any photographs of your special day.
garyjames-entertainer@hotmail.co.uk
Please Note;- All testimonials & comments are 100% Legitimate.. All of the listed clients can be used as references upon request.
Hello Gary
We want to say a massive thank you for your performance at our wedding and how everyone commented on how professional a singer you are.
We can honestly say it is something we will never forget and will recommend you to everyone we talk to. We can honestly say in our opinion you are far better than Mr Buble' .
The video on YouTube and your web site is something we will keep forever and I'm sure our grandchildren will treasure.
Best wishes
Love from Chrisi and Alan Logan (Mr and Mrs)
Ooooops he did it again lol Gary James you were superb we had the best night everyone and I mean every guest has commented on your outstanding voice and how smooth everything flowed read this so many times but I can honestly say you are without a doubt a must for a wedding not to be forgotten by anyone who attends
Lorraine & Andy Wickens
Stonebridge Pub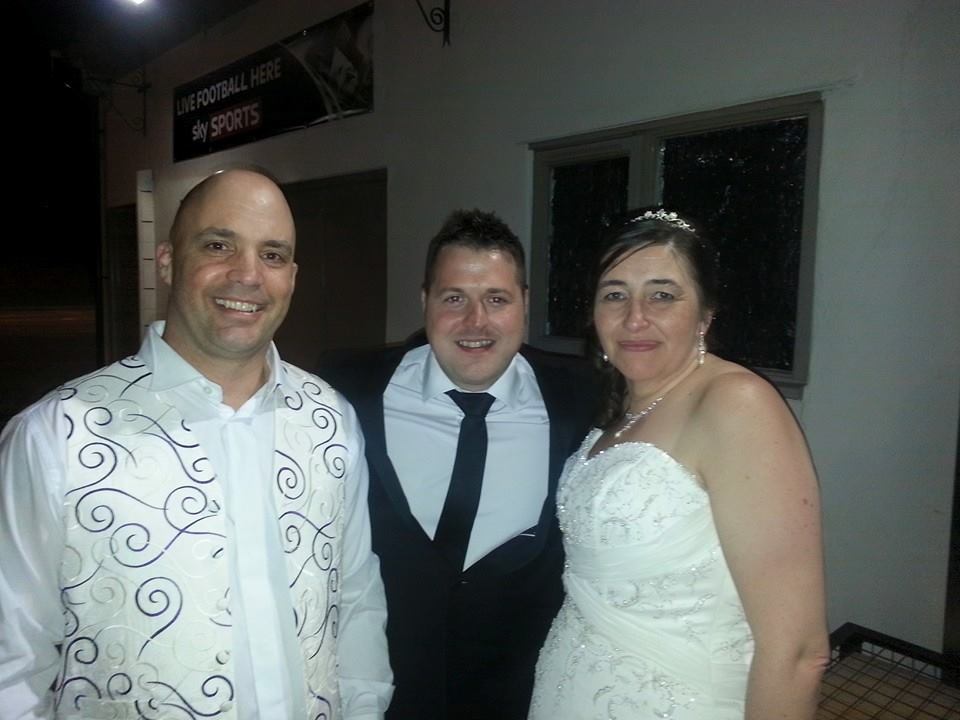 Adam & I are so pleased that you performed for us yesterday, the amount of people that initially thought they were listening to a cd, until they realised there was a guy in the back ground singing, is true evidence of how good you are! Everyone said you were brilliant!!! We both absolutely loved you singing for our first dance, it was more than we imagined, thank you so much, will be recommending you! X
Adele & Adam Trees (26th September Parkhead Hotel)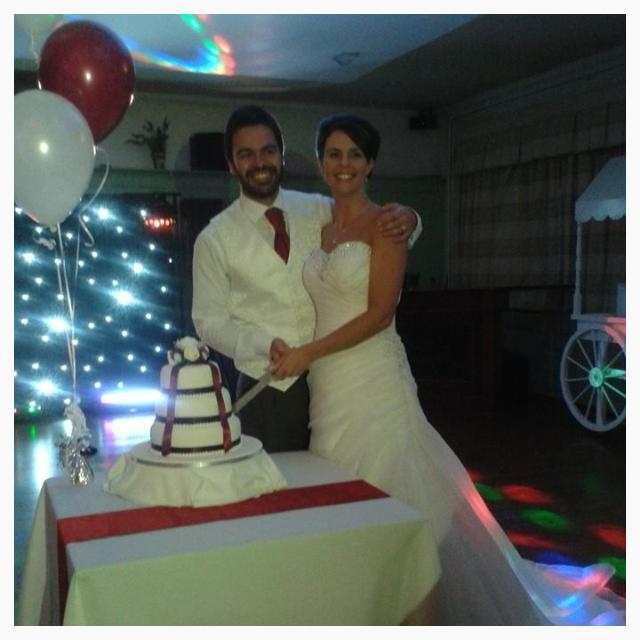 When I heard Gary sing I knew I wanted him to be part of our wedding and I am so glad he was. He sang a beautiful song in memory of my late Grandad and everyone thought it was so special and something not many others would take the time to do. Had so many positive comments during and after the wedding. Thanks again for being a part of our wedding Gary, you were amazing. Thomas and Laura x
Regards
Laura Ellen & Tommy Graham (19th September Wynyard Hall)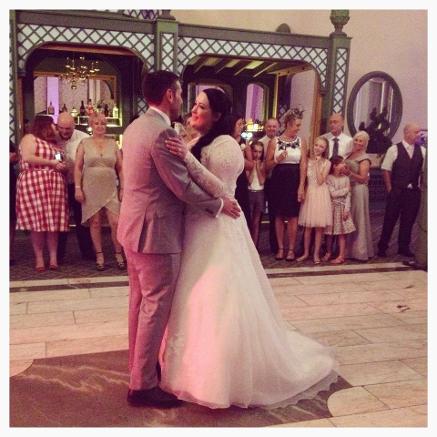 Although a little late, it's meant with the same amount of gratitude.
Where do I start.... Having known Gary for a number of years personally I kind of took him for granted as a singer. As well, to me it's just Gary!
Oh how I was wrong!!!
Gary the friend turned into Gary the complete professional with everything planned with excellence and precision leaving no stone unturned.
On the big day itself he had everything coordinated adequately and nothing was left without a contingency plan 'just in case', which I'm pleased to say wasn't needed.
Not only did Gary sing live whilst the wedding party made their big entrance and exit, His performance 200ft up on roof of The Vermont Hotel was outstanding in the blistering sunshine.
Every one of our guests commented on how good he was, I just wish we could have heard more ourselves but the photographs took priority.The night-time event was also hosted by Gary with sheer excellence. Singing the first dance, father and bride dance, and then another hour of live singing on top, then to DJ until the small hours of the morning. The dance floor was never empty with all ages of guests accommodated for.
If I was a biased man I would recommend Gary to anyone as he's my friend, but I have to be honest here as a customer..... I could not recommend any higher or speak highly of Gary James the performer if I tried!
Mr. & Mrs. Anderson. The Vermont Hotel, Newcastle
24th August 2014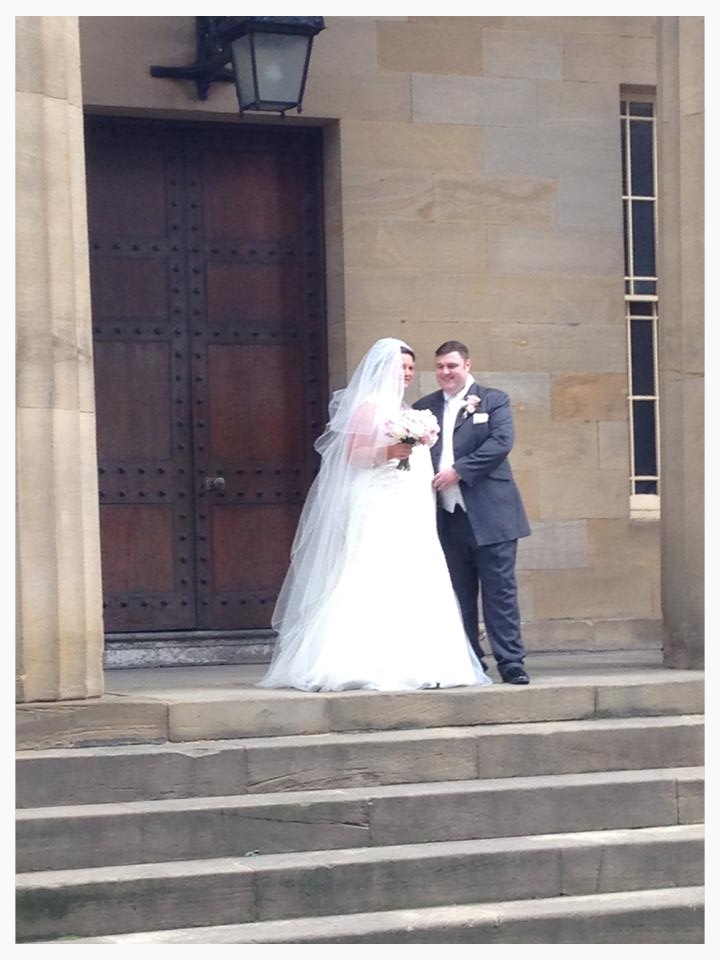 Gary thank you so much for providing our entertainment on our wedding day. Everyone has been commenting on your amazing vocal ability and the stunningly beautiful set up on the evening, you have been so friendly, and helped us with everything from booking you to the wedding day. You also helped to create the wonderful evening that we enjoyed so much. hope to see you soon.

regards
Gary & Faye (Lumley Castle)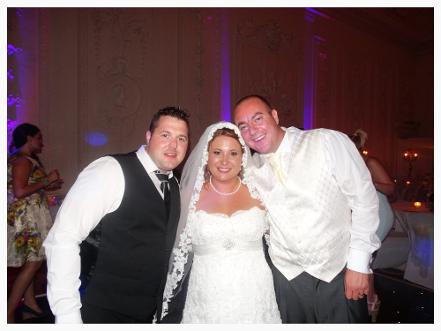 Gary sang at our wedding . He was amazing and was a real special touch at our wedding . All of our guests commented on how lovely he was a what a voice he has. Gary went out of his way to learn a song which he had never heard of for our first dance and he sang it perfectly . me and my hubby were very impressed .
Kirsty Slater (Ashington Football Club)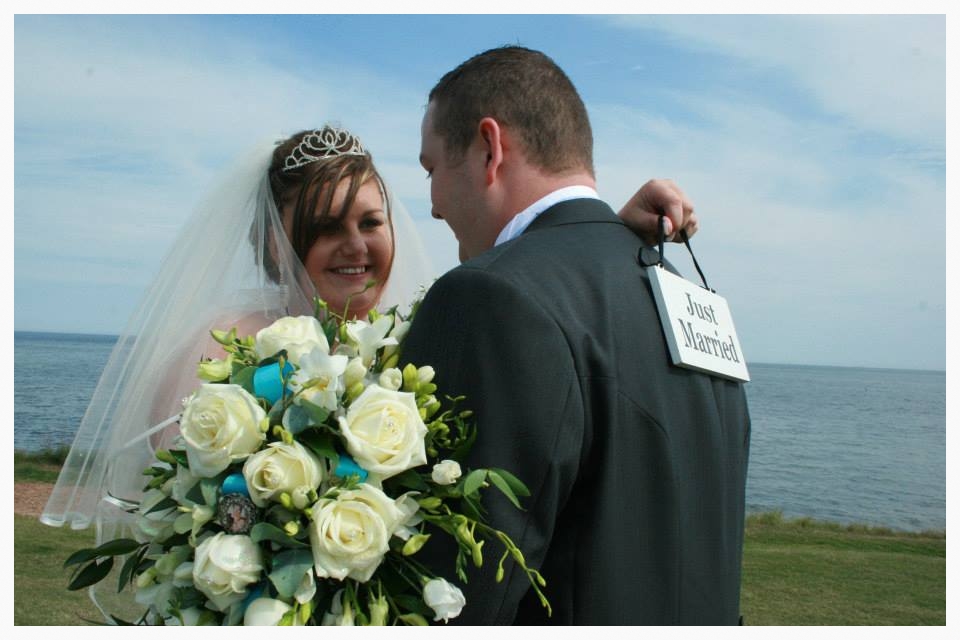 I found Gary when searching the Internet for a Rat Pack Swing Style singer for my wedding as it was the only type of entertainment I wanted but I was convinced I'd never find someone good in our budget. Gary proved me wrong, I was sold after the first line of a demo track and when I contacted Gary he called me straight away we chatted like we'd know each other forever and I was put completely at ease, Gary's packages offer something for everyone of all budgets and we couldn't of been happier with our quote which was to also include disco.
Contact with Gary was always quick and efficient and I always felt confident that this was going to be one part of my wedding that I didn't need to worry about, this turned out to be true.
Performances during our meal were perfect and had all guests swaying (even the ones we all thought there was a CD playing) Gary preformed our first dance for us and although I can't remember any part of it watching back on video he sang one of my favourite songs to perfection and I couldn't have hoped for better. The dance floor was never empty during later performances even our harder to please family members said he was faultless.
We were quite specific about the type of music we wanted for our disco and Gary did not disappoint there really was something for everyone covering all the ages of our guests, and was more than happy to take requests. We would recommend Gary to anybody, nearly 3 weeks after our wedding and guests are still making comments of how much they enjoyed Gary.
As well as providing our music, I also found a recommendation from Gary's Facebook page leading me to the man that made our wedding cake and for this I can't thank him enough as it was beyond anything I could have dreamed of.
Julie & Scott Wilson
(The Ropeworks Sunderland)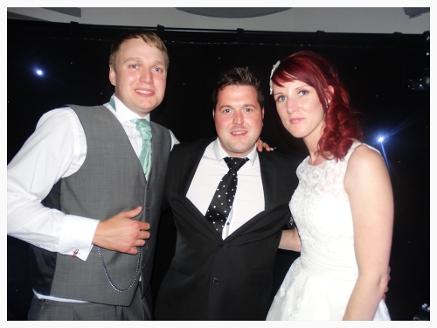 We first met Gary singing at a restaurant in Sunderland and booked him that night for our evening wedding celebration! He was exactly what we wanted, Rat Pack and Swing to begin our evening with a relaxed and upbeat atmosphere. All our guests commented on his singing on the night itself and afterwards. We also booked Gary for our disco. He played exactly what we asked for and kept our dance floor full! From the first meeting to the last song played Gary was nothing but professional, enthusiastic, and easy going. Nothing was a problem for him. All communication was great, we always got a quick response and he put us at ease that everything would run smoothly.
Thanks again Nadia & Adam Fenwick (Ramside Hall)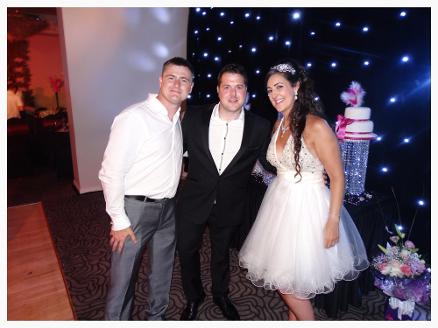 "We booked Gary after meeting him at a wedding fayre, he amazed us then and blew us away even more on the night. He did our disco as well as singing and ran the night like a true pro. Nothing was a bother to him! We wanted to switch our first dance part way through to something everyone could join in with, as it was last minute Gary didn't have the song but went out of his way and it was downloaded in minutes and executed perfectly from songbird to the hokey cokey!

A true gentleman, with all the charm and charisma a swing singer should have! We would recommend him to everyone, accept no imitations!
Mr & Mrs Wilson (Jesmond Dene)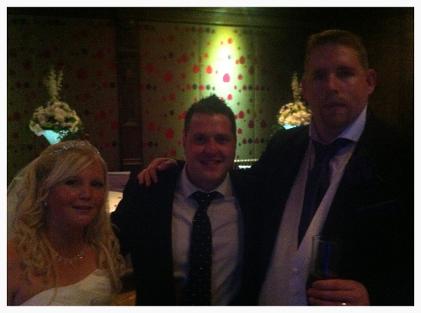 Thank you so much for singing and doing all things musical for us at our wedding at Eshott Hall! Everyone was very impressed with your singing and in particular with the atmosphere you created outside at the drinks reception! Amazing! Looking forward to seeing you again at my sister's wedding in October at Close House!

Thanks again,
Sara & Phil (Eshott Hall)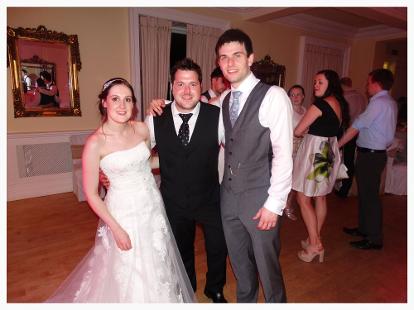 "Thanks Gary for entertaining our wedding guests at the Quayside Exchange in october. Everyone has said what a fantastic day and night they had and that was down to your brilliant singing and dj set. The fact that you managed to get my husband up dancing more than once is a miracle!! Thank you so much I would recommend you to everyone.
Sara Anderson (QuaySide Exchange)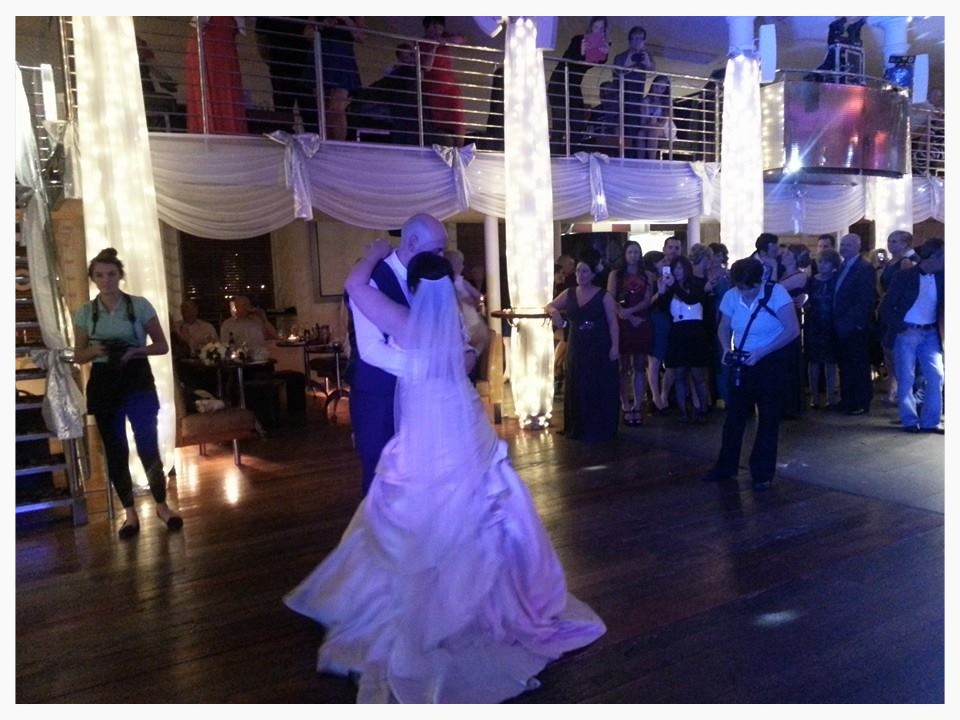 "We booked Gary after meeting him at a wedding fayre and were really impressed! Gary was very professional and friendly from start to finish, sang our first dance live, then, as a surprise for me, even learnt and recorded a new song - which meant the world to me! We had so many positive comments from our guests. After singing a fab live set, Gary DJ'd and had everyone up dancing the night away! THANK YOU Gary, you really went out of your way to make the perfect ending to a perfect day xx"
Anne Berry (Dissington Hall)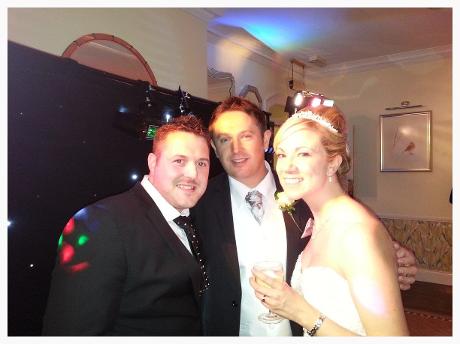 "Hi Gary, Just wanted to give a belated but massive thank you for singing at mine and Laura's wedding in June. You were fantastic all the way through from guests swaying in the church to swinging on the dancefloor later (which your dancefloor was certainly worth getting by the way) So thank you again for everything and would highly recommend you to anyone that asked"
Ray & Laura Noble (Dissington Hall)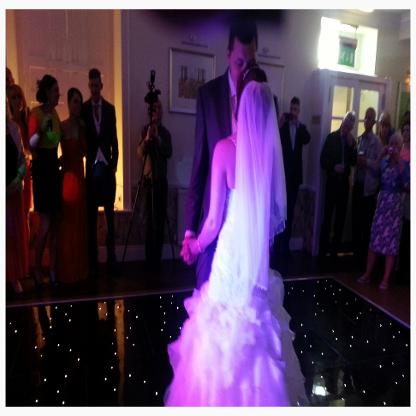 "We booked Gary to perform during the drinks reception at our Wedding. From the first contact he was quick to respond to any queries and was always available to answer any questions. Gary contacted the venue and arranged where and when to set up. When we arrived he was ready to go and performed outside so that our guests could enjoy the sunshine. His performance on the day was fantastic and all of our guests were commenting on how good he was. He created a fantastic atmosphere throughout the afternoon that kept everyone in good spirits while photos were being taken and they were waiting for their meal. I would definitely recommend him for anyone looking for a singer for any event. Friends at the wedding also took his details for future events. Thank you Gary! x"
Bev Wildish (Shotton Hall)
"Hi Gary just wanted to say thank you from the bottom of our hearts for an amazing time at our evening reception, words can't express how impressed we were as were all our guests. You were out of this world everyone was blew away, I will be recommending you to everyone, first class performance very professional
Donna and Mark (Sporting Lodge)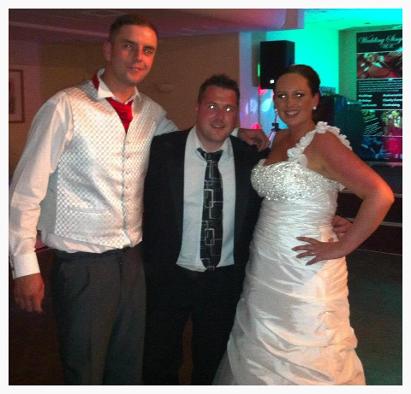 "Well, where do I start? There are so many wonderful things to say about Gary!"
First of all, I would just like to say a huge thank you once again for singing at our wedding reception. You really were the cherry on top of the cake on such a perfect day. Paul and I were blown away!
It took me weeks and weeks of searching the internet and listening to, in my opinion... some terrible singers, before I finally came across Gary James. I knew a couple of seconds into the demo song that I had to have him at our wedding!
I contacted him for availability and prices, he replied to me within a few hours and I was delighted to know that he was available, but more so, very pleasantly surprised at how competitive his prices are. I was expecting to pay a lot more for a voice like his!
In the build up to our wedding, Gary kept in regular conta...ct and sent me lots of information and a fabulous demo CD with a selection of his songs on.
On the evening of our wedding reception, Gary was there and all set up before I even got down to check the function room out. It was lovely to finally meet him after a few months of listening to his music and contacting him via e-mail.
Gary is one of the nicest people I have met in a long time, not only is he very professional and an amazing singer, but a true gentleman and all round entertainer. Nothing is a bother to him at all.
When Gary started to sing, he had everyone hooked! His voice sounds even better live than what it does on his demos. I must say, you have to listen to him live to get a true feel of the tone in his voice and to hear how unique his voice really is.
Gary also sang our first dance as well as my last dance with my Dad.
It was truly magical to have had my favourite song sang at my wedding day by Gary.
I really couldn't have wished for anything more on our special day, it was everything I imagined thanks to Gary. I would highly recommend him to anyone who is planning on having a live singer at their wedding, or for any other function. We are looking for another excuse to book him up again! Three weeks on and our guests are still commenting on how fantastic the live singer was at our wedding.
Really can't thank you enough Gary! Hope to have the pleasure of hearing you sing again very soon.
Laura and Paul Green. (Longhirst Hall)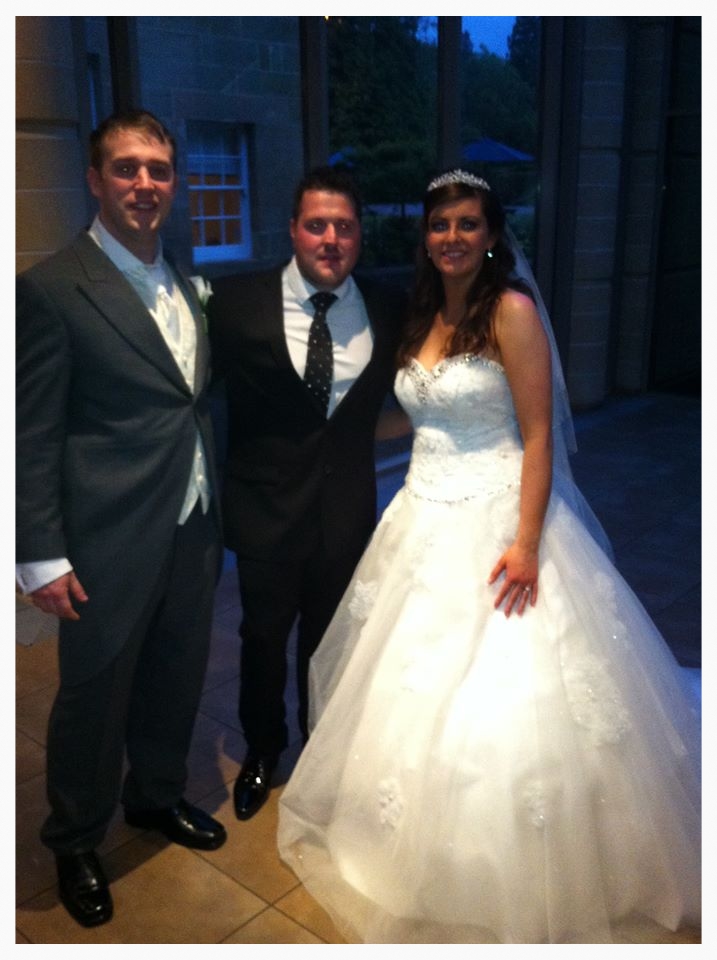 "We first found Gary on line as we were in the early preparations for our wedding after emailing we decided to vet him in person so went along to Martino's in Seaburn on a Monday evening. Well what can I say from the moment we met him he won us over with his appreciable fun and friendly manor and the moment he opened his mouth to sing we were hooked. We have spent many an evening at Martinos since enjoy good food and great entertainment. We were so impressed with Gary that not only did we book him for our wedding at Ramside Hall Hotel but also for a house party we threw for our daughter. On both occasions he was well presented , polite, funny and a huge crowd pleaser. We would have no hesitation in recommending Gary for any event. He has now become known to myself and our friends as the king of swing and trying to find another excuse to book him again in the near future".
Mr and Mrs Martin (Ramside Hall)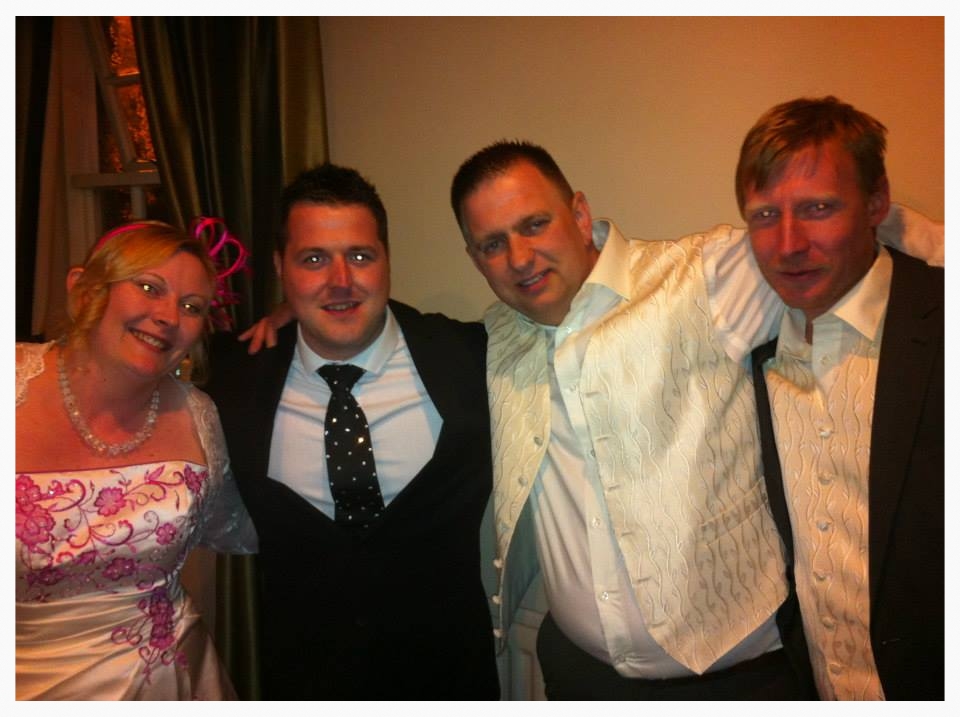 "What can I say.....you totally blew us away with your performance .... We were speechless Gary ...you made my wedding magical,everybody has said how amazing you were .I would recommend you to everybody .Thank you once again for making our wedding day such a special day x
Sarah Doyle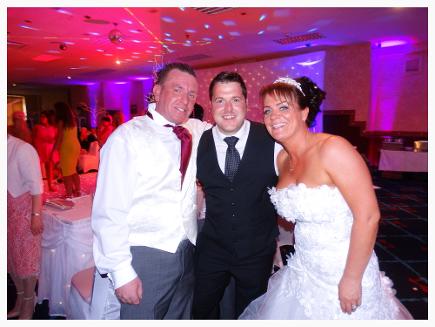 "When we booked Gary I knew I wanted the best swing singer to perform and fit into our expectations and we were so right in choosing him . Amazing voice and performance and everyone commented on how well Gary sang . The disco was also fabulous and without Gary's entertainment the evening wouldn't of been the same . Top class !! Thank you x"
Nicki Wells (Brighton)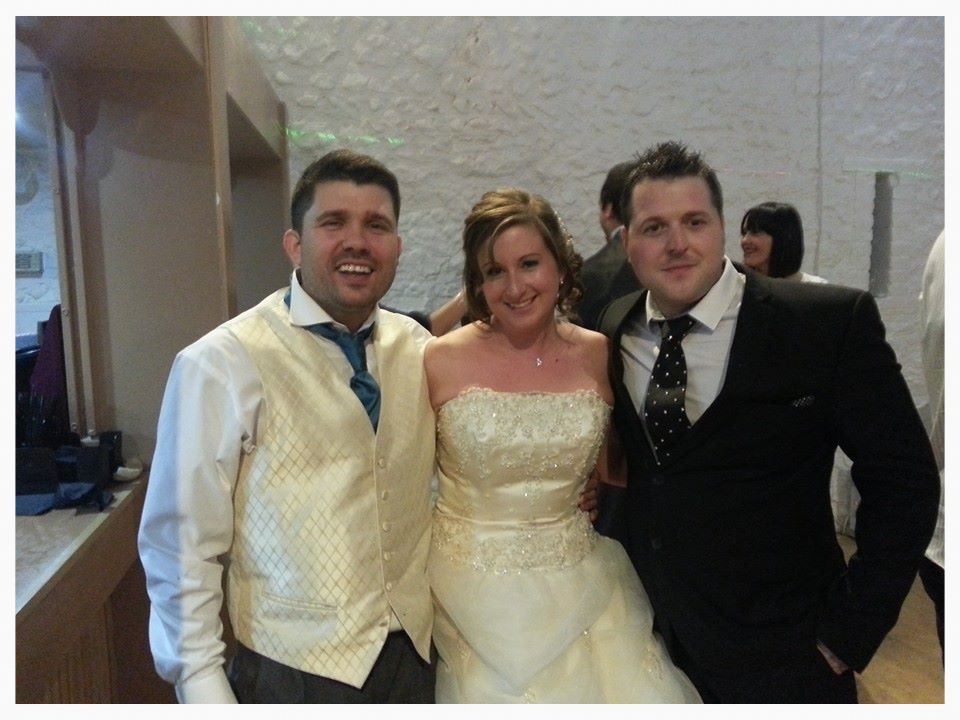 "Gary you totally made the evening of our wedding. Everyone commented about your performance, You really made our first dance extra special "Amazed" by Lonestar has always been our favourite song. You sung it amazingly for us. We will be definitely recommending you to everyone looking for LIVE entertainment. You are worth every penny :) x"
Lesley Thoburn Bland (Ramside Hall)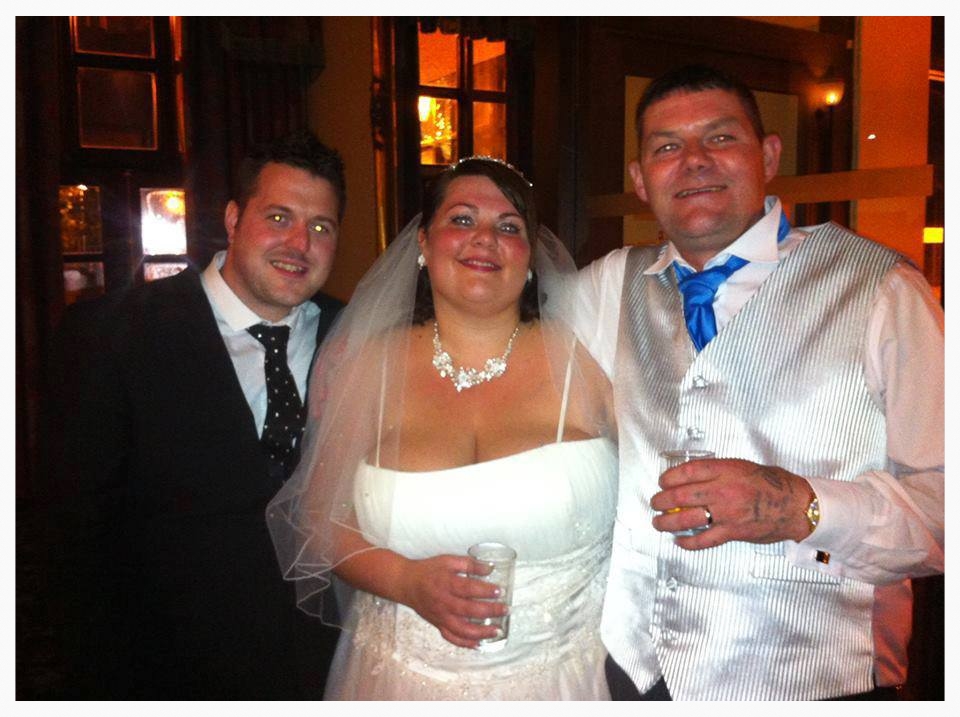 "We really can't thank you enough for singing at our amazing wedding. Everyone of our guest commented on how extra special your performance was and certainly made our day even better . You were FAB!!! . Thank you. We are so happy we made the right choice after looking so long for entertainment for our big day.
Mr & Mrs Hepton X (Roker Hotel)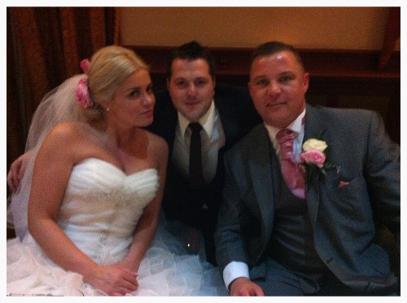 "We had Gary perform at our wedding on the 20th of December 2013 as a surprise for our guests. I've known Gary since we were kids as we went to school together. So for me there was no-one else I'd rather have at our big day than Gary.. He filled in the gaps between our afternoon and evening perfectly. He is very professional in what he does and our guests absolutely loved it. They are all still talking about how great he was today. Can't recommend Gary enough. Thank you again Gary"
Claire Louise Stubbings (Station Hotel Newcastle)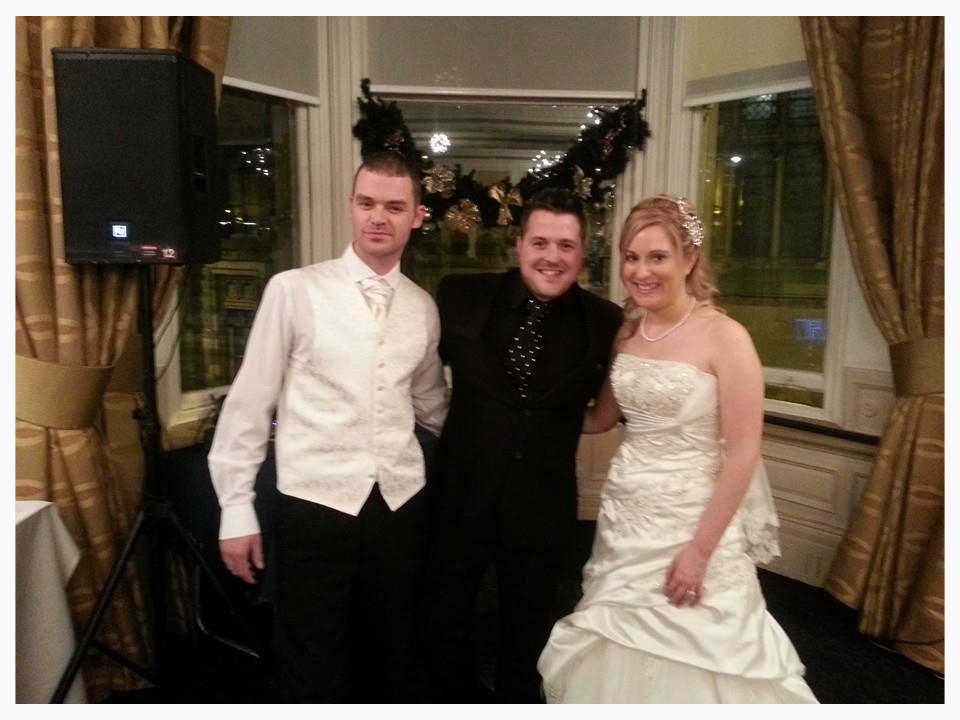 "I Loved every minute of your performance. We loved our first dance too. It was amazing having a singer, and so different from just having a "middle of the road wedding DJ, our Venue recommended their resident DJ, but once we reviewed your testimonials we knew we wanted it more personal, and someone we could trust. Everything we read was so true. so we chose to include you as our singer, it was just the icing on the cake."
Racheal & Joseph Bolam (Lumley Castle)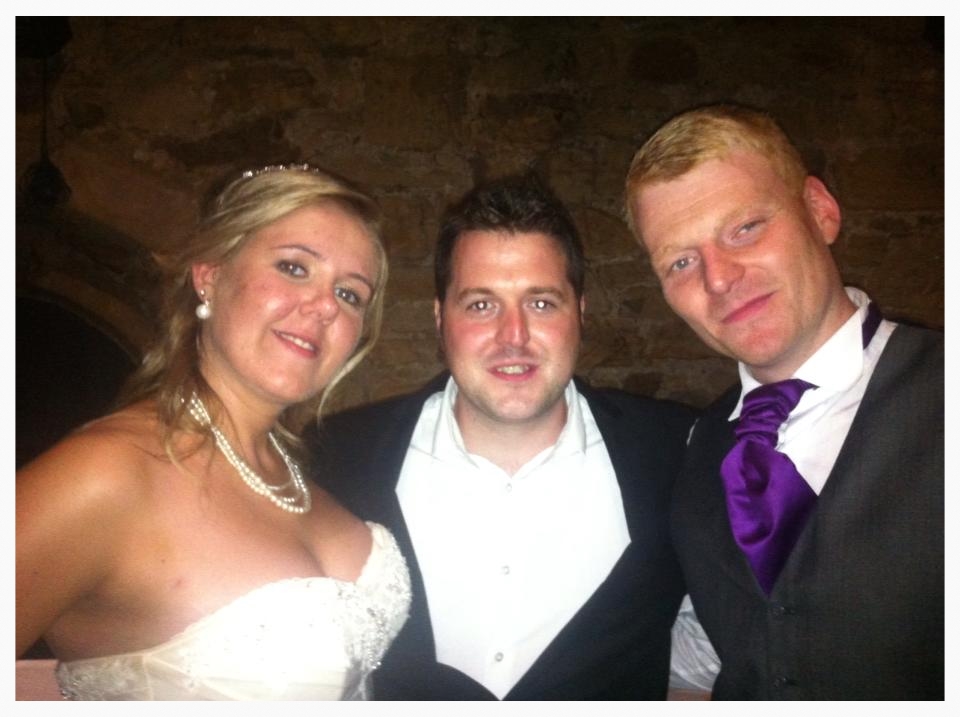 We had Gary perform at our wedding on the 23rd December. He was absolutely amazing. We couldn't have asked for a better singer. My situation was unique and Gary was fantastic at communicating with me over the leading months to ensure that he knew exactly what I wanted to the finest detail. Any request for him from me was dealt with impeccably and he arranged all aspects of songs, to subtlety, playlists, mash ups, themes and many more! I had on the night and continue now to get brilliant complements from my guests on how fantastic the singer/entertainer was at the wedding, I think he is to blame for many pairs of sore feet the next day from too much dancing! If you are thinking of hiring Gary James for your occasion, you simply must do it. Thank you again so so much, you really helped make our wedding special in every way"
Kimberley Hanratty (Parkmore Middlesbrough)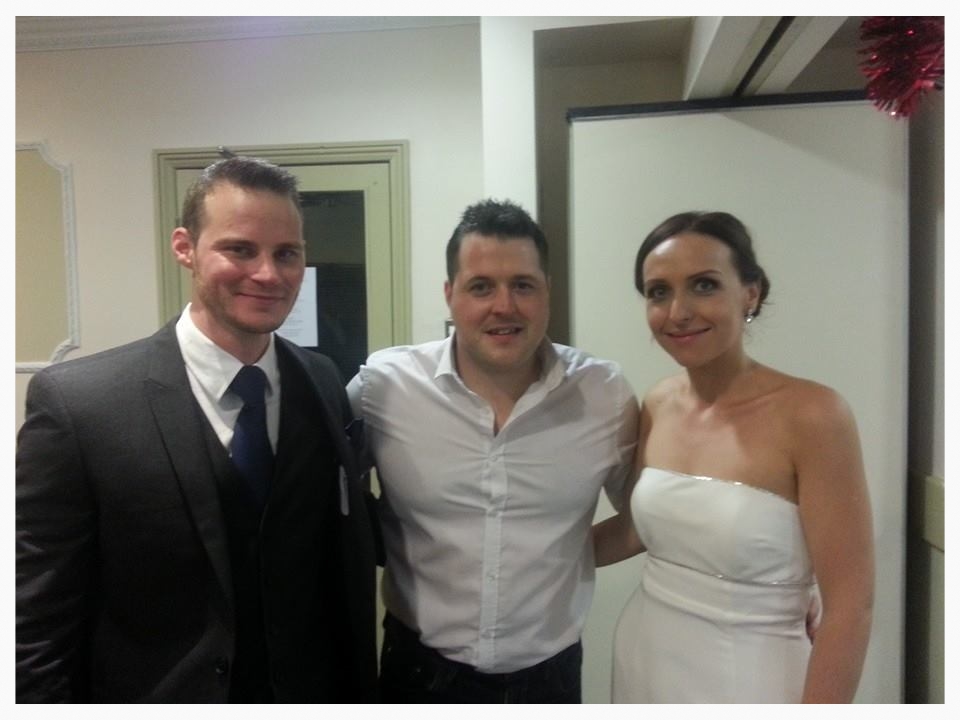 " We would like to thank you Gary for performing on our evening reception all the guests commented how amazing you were. you truly made our night. looking back if we could of done anything differently for our wedding we would of booked you day and night .. i will be recommending you to anyone who will want a brilliant singer.

Thank you Kim and Shaun McConnell (Rowley Manor 22nd feb 2013)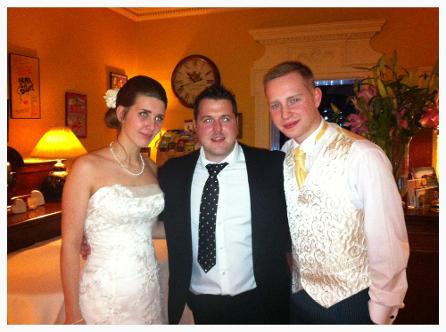 "Well what can i say apart from "What an absolute 'Gem' Gary James is". Such a talented professional young chap who blew not only myself and my husband away but also every guest too! He went out of his way to accommodate me and performed remarkably on my wedding night. Had such a great night and had such a laugh with Gary. I would definitely recommend Gary and I wish him all the best and every success in his career. TOP BLOKE!!
God Bless
Maxine Taylor (Newcastle)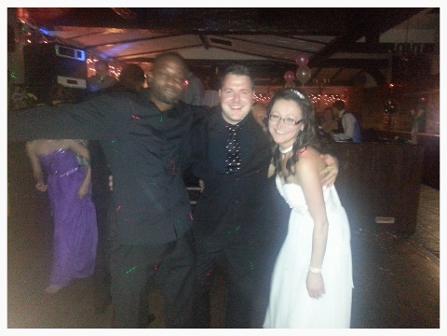 "Can't thank Gary enough for his performance on our wedding evening. He made our first dance very special and even helped to find a last minute song for the father of the bride dance. Our guests really enjoyed his performance. Thank you Gary! X"
Cassandra Waggot ( Quality Hotel Boldon)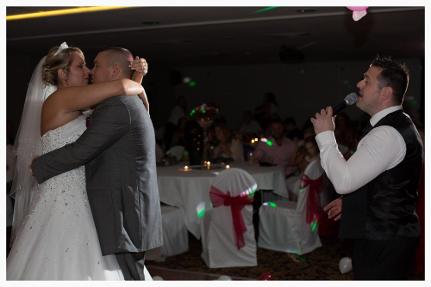 "Hi Gary, Just wanted to say a big thank-you for the fabulous entertainment you provided for my daughter Rachel's wedding at Gibside Chapel last weekend. All of our guests have commented on how good you were - a brilliant singer with a great personality! Oh, and the disco was great too - a good mix of music that kept everyone on the dance floor (including my 83 year old Dad!) Once again thank-you , from the Mother of the Bride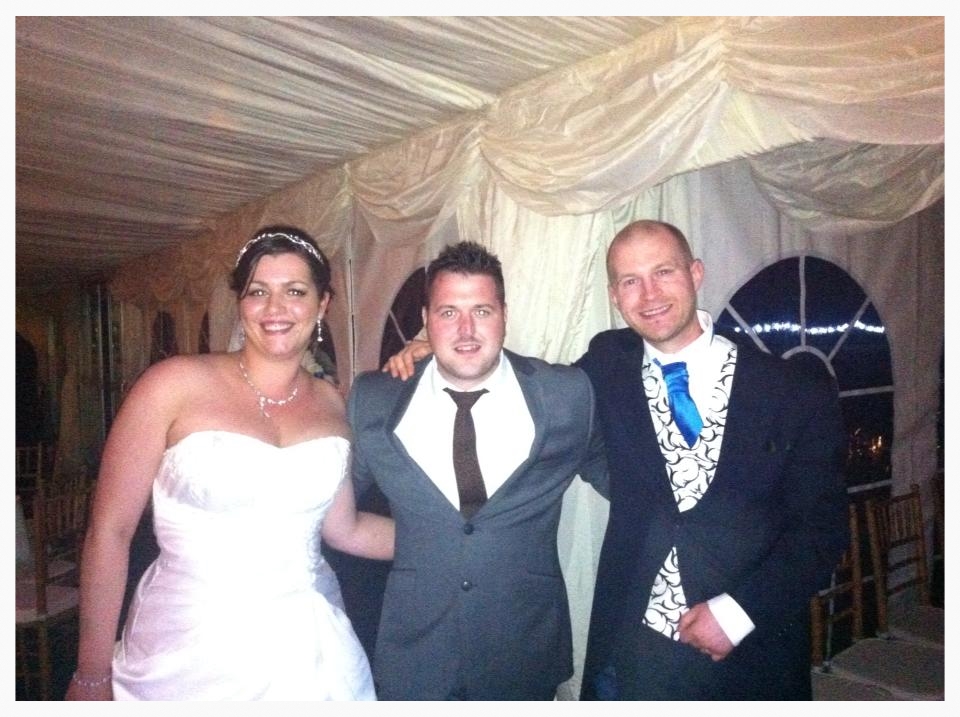 "Gary thanks for the perfect end to the perfect day, you were fantastic, our guests hve not stopped talking about the wedding day and you are always mentioned, they loved you...yong and old they were up on that dance floor all night, My husband often joked about having Gary Barlow come and sing our first dance for us...well who needs Gary Barlow when they have Gary James..."

Thanks Again
Helen Errington (Gosforth Race Course)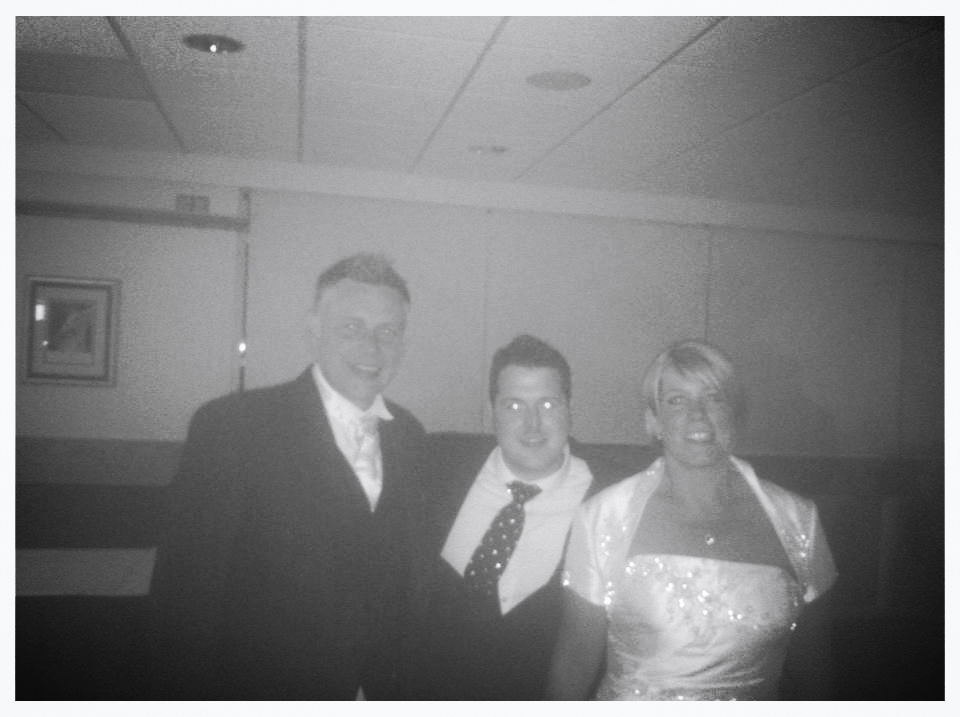 MORE FANTASTIC COMMENTS FROM PREVIOUS CLIENTS
"I booked Gary months in advance after being recommended him on a wedding forum.I had fell in love with his voice from his recordings but I was very nervous about doing so as I was currently living in Belgium and planning my wedding in Stockton from there. Gary was such a help and answered my many questions quickly as well as giving advice. He was very understanding on the difficulties of sorting a wedding out from such a distance and was very helpful with things such as waiting a little longer for the cheque to be posted over seas.At our wedding Gary proved even more talented than we thought he would be. With a beautiful singing voice, he guided our first dance and the rest of the festivities. He was very friendly and approachable with requests. His presence and talents made it an even more memorable evening than it. I would recommend this man to everyone and it was such a shame that with everything going on we forgot to get a photo with him before we left"
Hannah Hadman
Just wanted to say an absolutely massive thank you for performing at our wedding on the 29th December at the Park Head Hotel. Everyone commented how entertaining you were.There was a bit of something for everyone , needless to say we enjoyed your singing so much we have booked to see you perform again on Valentines day.
Elisabeth Moffatt
Gary performed a live set and DJ set at our wedding in June 2013. All of our guests and my husband and I had a fabulous night and Gary made our wedding reception extra special. His singing was excellent and he was very professional. I would recommend his singing to anyone looking to hire a singer for whatever occasion, I hope to hear Gary sing again at an event soon. Thanks, Laura and Andy.
Gary performed a live set and DJ set at our wedding in June 2013. All of our guests and my husband and I had a fabulous night and Gary made our wedding reception extra special. His singing was excellent and he was very professional. I would recommend his singing to anyone looking to hire a singer for whatever occasion, I hope to hear Gary sing again at an event soon. Thanks,
Laura and Andy.
Gary performed at our wedding at Langley Castle on 2.1.14. We had researched wedding singers and met Gary at a local Wedding Fare. He was very professional, down to earth & friendly. He gave us a CD of his tracks to listen to which was very helpful. We both loved his CD & booked him straight away. He tried to make sure we got exactly what we wanted on the night. He prepared extremely well for the night. His voice is superb! All the guests commented how talented he was and his singing seemed effortless. In between his sets he played tracks that we had requested throughout the evening. He interacted with the audience and he even encouraged me to sing with him (he probably regrets this now). Gary we have a fantastic photo of you laughing at me if you would like it.
I am so pleased we organised Gary to sing at our wedding and I would certainly book Gary again & we would recommend him for any family occasion. We had a magical wedding day at Langley Castle and Gary was amazing!!
Dear Gary
We booked yo to sing at our Goddaughters Christening and you were absolutely brilliant and everyone said so, Its great to be able to contact you right up to the event to request songs and communicate about anything at all. You are incredibly professional and anyone considering booking you should know that once they've asked you to perform then that's all they need to do as you take brilliant control and just turn up and get on with whatever you need to get on with. You make it completely stress free for your clients. We had a great afternoon. Thank you very much indeed
Ian and Becks
I am a wedding photographer based in the North East of England and I met Gary at a Wedding. There Gary sang for the guests while they were waiting for the food to serve. I have to say this is the first wedding I have seen where this was done and as a result was a little suprised. I struck up a conversation with Gary and found him not only to be a really approachable friendly guy he was also exceptionally professional. I would also like to add how well he went down with the guests and myself once he started to sing. Fantastic guy and fantastic singer. A true professional and I look forward to seeing him at our next shared wedding. (Who knows it may even be my own, lol) Great work Gary and keep it going.
Andrew Dixon
Gary has performed and hosted at our What's On 4 Me LIVE! Events in the North East and continues to support us around the UK. He is an absolute professional, immensely talented and first class entertainment. I have no hesitation in recommending Gary - he's an asset to our team and we wouldn't be without him - and his performances are world class!
Marilyn Bradshaw (What's On For Me)
Thank you Gary for a most wonderful evening at Martino's Seaham on 13th December 2012 for St. Matthew's, Silksworth Church christmas night out. Everyone really enjoyed it and said it was the best entertainment we have ever had. We will definitely be booking you again. The songs you sang definitely suited everyone. It was lovely to see everyone singing along with you and enjoying themselves. Once again a heartfelt thank you.
James McDowell
Get In touch Via Facebook or Twitter